I'm finally getting around to installing the new EdgeSight for NetScaler version 2.1.  Here are the prerequisites you will need to get started.
NOTE: I'm installing this on a Windows 2008 64-bit server updated with August 2011 updates
From the documentation
Hardware
CPU: 2GHz (or better)
Memory: 2GB of RAM recommended, 1GB of RAM required
Disk: 2GB free space
Software
Windows Server 2008 or Windows Server 2003 SP1 or later. Both 32-bit and 64-bit systems are supported on all platforms
Internet Information Services (IIS) 7.0 for Windows Server 2008
Microsoft Message Queuing (MSMQ)
Microsoft Distributed Transaction Coordinator (MSDTC)
ASP.NET
Microsoft XML Parser 3.0
Windows Script 5.6 or higher
.NET Framework 2.0 SP1
SQL Client Add-On Tools, including SQL-DMO objects.(if Web server and database server are on different machines)
Reported by the Installer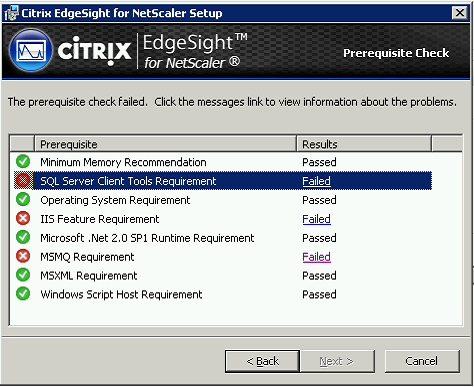 SQL Server Client Tools Requirement
Operating System Requirement
IIS Feature Requirement

Role Services

Static Content
Default Document
ASP.NET
ISAPI Extensions
ISAPI Filters
Windows Authentication

Ensure that the following Management Tools are selected under Role Services for the Web Server:

IIS 6 Management Compatibility
IIS 6 Metabase Compatibility
IIS 6 WMI Compatibility
IIS 6 Scripting Tools
IIS 6 Management Console

Microsoft .NET 2.0 SP1 Runtime Requirement
MSMQ Requirement

Add Features: Message Queuing -> Message Queuing Services

MSXML Requirement
Windows Script Host Requirement
After adding the above components…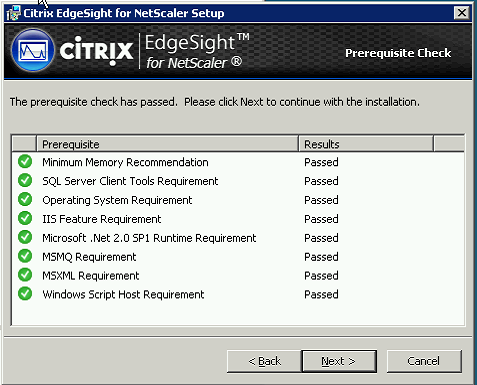 Value for Value
If you received any value from reading this post, please help by becoming a supporter.
Thanks for reading,
Alain